Corunna, MI Farm Drainage
Pennington Farm Drainage
Pennington Farm Drainage offers expert tile drainage system installation throughout Central Michigan. Using GPS mapping and design, we can construct a tile drainage system to properly drain your fields, leading to higher yields and increased profits.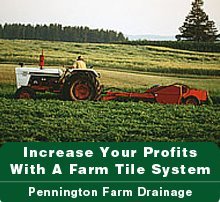 Learn More About Pennington Farm Drainage:
Farm drainage
Tile drainage system
Excavating
GPS mapping and design
Contact us today about designing and installing your farm tile system.
Contact Pennington Farm Drainage today at 989-743-5074 for a free estimate.